Through an internal design review process and an audit process by ESO for the entire instrument during 2021 and 2022, a high risk of not meeting the performance was identified for the image quality and WCS (World Coordinate System) knowledge, as well as difficulties for maintenance access. As a consequence, major changes to the NGSS LOWFS subsystem were requested.
Since then, the LOWFS team from CAB and University of Durham has been working with the NGSS system team on proposing an updated LOWFS with a two NGSS arm design that would allow for better image quality performance, WCS performance and a different mechanical architecture that allows for easier maintainability and access.
The development work on LOWFS is restarting on a new baseline for many of its content and the main objectives were to present and discuss the updated set of LOWFS requirements, the updated baseline for the architecture and possible changes to NGSS system interfaces. After a meeting at which the new design and architecture proposal for the LOWFS was agreed and subsequently approved by the ESO at the end of last year, the baseline architecture will be further developed during preliminary and critical design work for 2023-2024.
Apart from the addition of the second arm, LOWFS will be placed on a fully extractable bench with rail plus carriage extraction mechanism and also, the NGSS environment temperature increases from -15ºC to +2ºC.
The following image shows the new baseline design for the LOWFS: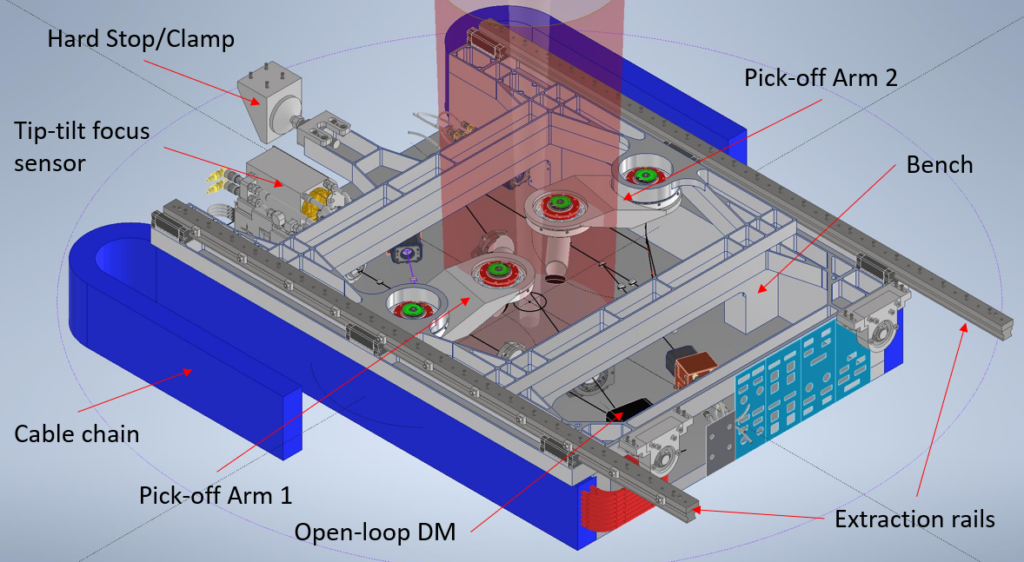 ---
How much does this situation affect the current POA design?
The design and architecture of the POA are significantly affected by all these changes. Although the configuration remains "theta-phi", a "shoulder-elbow" architecture will now be implemented, whereby the primary axis is no longer a rotating mechanism and becomes a fixed device that moves the assembly formed by the secondary axis and the POM (Pick-Off Mirror), which will be steerable.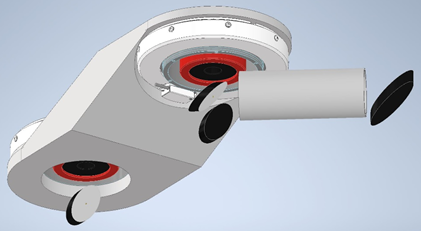 The good news is that all the work, knowledge and studies developed for the secondary axis' engineering model of the previous architecture will be used for the primary axis of the new design, so it could be said that the mechanism has been renamed, but it remains the same. In addition, both axies will now use the same brushless motor technology and "direct-drive" type configuration.